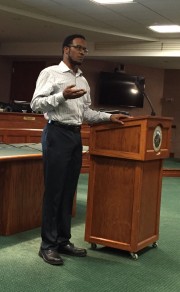 Gerald Franklin of WebTeam Corporation introduced the employment tool to the local business and civic communities at the pre-town hall planning meeting organized by Autism Speaks - New Jersey and Union County Freeholder Sergio Granados.
Somerset, NJ, January 28, 2016 (Newswire.com) - The Senior User Interface Designer working with WebTeam Corporation called upon city officials, parents, teachers, employers and autism activists to explore The Spectrum Careers and understand how it works and why it is growing at an impressive rate less than a year after its launch. Notably, Autism Speaks in a recent update on LinkedIn has claimed that the job board is now hosting 10,000 openings.
"The Spectrum Careers can be used to the benefit of everyone involved with autism. We are hopeful that today's presentation will spark a dialog between employers and the autism community in this region. It is one of WebTeam's marquee products and we have taken immense care in building it right," Gerald said after his presentation as he thanked the organizers, including Heather Hays, Executive Director at Autism Speaks – New Jersey, for inviting him to speak.
The web and the mobile versions of The Spectrum Careers come with several key features, including search functionality for service providers and employers, resume sharing via email, and optional sign-up. The interface of the portal has a minimalistic feel to it, just to ensure that those using it can easily and quickly navigate the information that meets their purpose. A news section called Autism Employment Daily is a recent addition that curates news content relevant to the world of special needs.
A member of the Alpha Phi Omega service fraternity, Gerald studied Game Design at Rensselaer Polytechnic Institute with a concentration in Human-Computer Interaction.
Share: